Thank you to all who donated in 2017, because of you, we exceeded our goal!
The 2018 Maryland Charity Campaign (MCC) will be open this fall. Check back soon for additional updates.


Need Help? Get Answers to Your Questions!
You've got questions; we've got answers. Click here to find the information you need.

Loaned Executive and Coordinator Resources


Maryland Charity Campaign volunteers – thank you for your service! Click here or the button above to get started.


About the Maryland Charity Campaign
View our promotional video, featuring Maryland Governor Hogan, Secretary Wobensmith, and Lt. Governor Rutherford, and many more Maryland faces you'll recognize!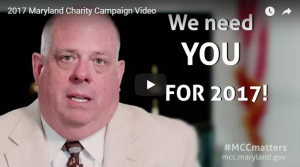 Wait, there's more!
Don't just take it from us! Click here to watch the playlist of last year's MCC participants and advocates.
Can't get enough? Watch more MCC videos here. Our YouTube channel has them all! #MCCMatters


Frequently Asked Questions
The 2018 MCC will run from October 9th – December 18th. We are busy planning for the 2018 MCC and will announce updates on this page as they unfold.
Click here to find Frequently Asked Questions.